For truly passionate student-athletes who know as teenagers that they want to pursue golf in college or even professionally, the best choice might be a full-time golf academy. The Academy at the Golf Performance Center is our answer for dedicated student-athletes who wish to grow in golf while utilizing a flexible learning environment in order to better their skills and put themselves in the best possible position for a rewarding future in golf. 
The Academy is a full-year program for students in grades 6-12 who are committed to the physical and academic rigor of a golf academy. The Academy is individualized and self-paced, challenging students to maximize their academic skills, cultivate high moral character and develop athletic training in the game of golf.
Inside The Golf Performance Center
The learning model developed at ACHIEVE utilizes an online curriculum, which gives students the flexibility to nurture their golf skills and compete in junior golf tournaments while putting them on an academic track to achieve success in the classroom. Students are also supported through programs like mindfulness training, nutrition counseling and meeting with a sports psychologist for a holistic training environment. 
Through the GPC's signature 5 Elements of Success principles, student-athletes learn to train not only their physical but also their mental game. These principles are: desire, physical, coaching, mental and equipment. Each student is evaluated on these 5 principles to examine their golf skills and physical proficiencies so the GPC golf instructors can create a program tailored to their specific needs.
Why The Academy at the golf performance center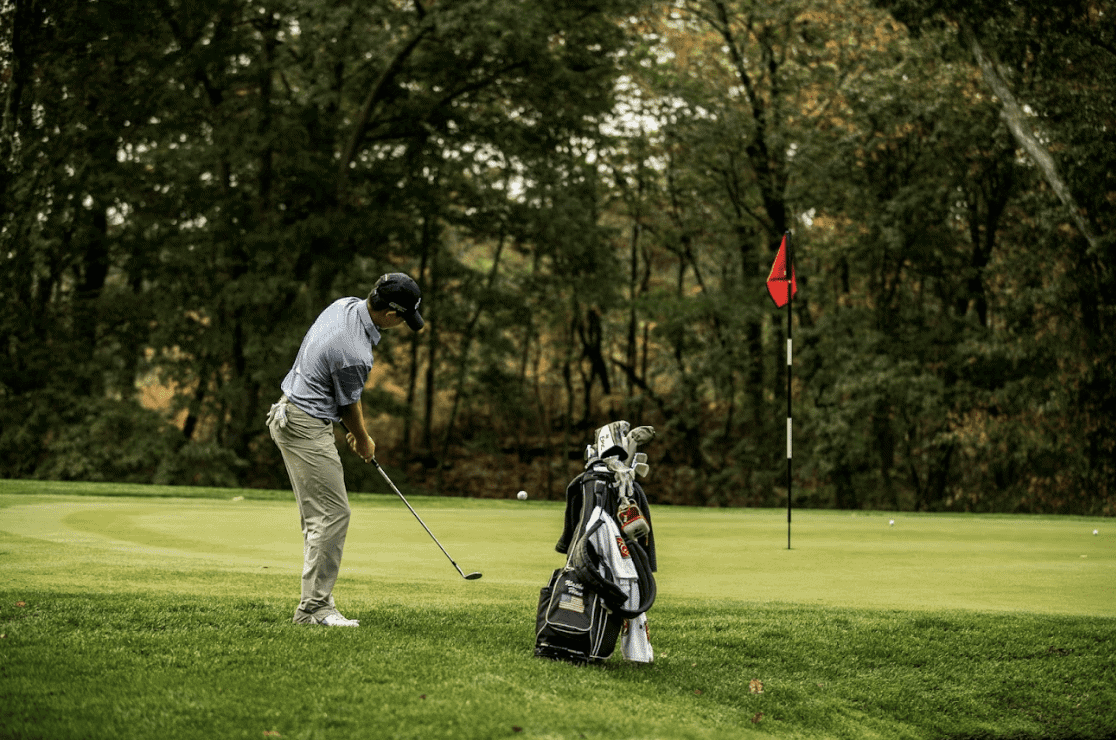 The educators and golf instructors at The Academy at the Golf Performance Center are dedicated to fostering a learning environment in which every student-athlete feels supported on their road to success in the classroom, on the golf course and in life. The learning model at The Academy is personalized for the academic and athletic needs of each student and aims to help every student achieve their full potential. 
As one of the best golf boarding schools, The Academy at GPC differentiates itself from other golf schools in a number of ways. To start, its location in Connecticut puts it in the long tradition of Northeastern boarding schools. While many golf boarding schools in the USA are located in the southeast, students at The Academy receive the traditional northeastern boarding school experience, while also going through a rigorous golf training program and a competitive tournament schedule. 
For students looking for the typical boarding school experience combined with all the programming and instruction of a top golf school, The Academy at GPC is the best of both worlds. Let's take a look at what makes a boarding school a unique high school experience and how golf works on the high school level.
What is boarding school?

The Academy at GPC is a boarding school located in Ridgefield, CT, meaning that students live full-time in residence halls on campus. As boarding school students, The Academy students live in dorms, eat their meals in the dining hall and attend classes all on the Main Campus. This type of school cultivates a strong community amongst students who support each other in the classroom, on the golf course and during downtime in the student lounges and recreational spaces. 
Students of The Academy not only graduate with a first-class education and top-rate golf training, but they also leave with lasting friendships and mentorships among the supportive and tight-knit community of students, coaches and educators, truly making it the best golf boarding schools in the northeast. 
How does high school golf work?
High school golf, or junior golf as it is often referred to, is a critical time for developing golf skills for dedicated players who wish to play golf competitively in preparation for college and a professional career. 
One of the many reasons to attend junior golf boarding schools like The Academy is to take advantage of the careful balance of school and golf to participate in the biggest junior golf tournaments in the northeast and beyond. These travel golf experiences give students a taste for what they can expect in college and beyond as they hone their golf skills in addition to getting them in ranked junior tournaments for college recruiting purposes. 

A Day in the Life of an Academy Student-Athlete
Life on campus is full of community, shared hustle in the classroom and the golf course and full of limitless opportunities. The student-athletes at The Academy know how to work hard and take advantage of all the support systems the school and staff offer. Let's take a look at what makes the student experience on campus so special. 
What is campus life like?
Located two minutes away by car from the Golf Performance Center, the Main Campus is the hub of The Academy student life. Main Campus is home to two dormitories among lush New England greenery and beautiful walking trails. Vardon Hall is home to the dining room, a recreational room and lounge, with classrooms and offices on the second floor. 
Safety is a top concern at GPC, with 24/7 exterior surveillance of Main Campus, automatic locking doors to all buildings and key fobs provided to every student, which gives them access to their residence halls and Vardon Hall during open hours. Main Campus also has full-time staff living on campus who are committed to helping students adjust successfully to life on campus. 

What's the classroom experience like at The Academy?
The GPC and ACHIEVE have partnered with US Performance Academy (USPA) to develop a curriculum tailored to the needs of student-athletes. This academic learning model allows students to create an independent schedule according to their fits and needs, while letting them learn in a self-paced learning environment. 
USPA is an NCAA-accredited online learning platform specifically created for athletes. The flexibility allows students to learn at their own pace. At ACHIEVE, this means students balance school work with golf training and their travel and tournament schedule.
On campus, students have access to many spaces created to foster better study habits and dedicated learning. With classrooms and study rooms in Vardon Hall, students take advantage of technology and collaborate with their peers and educators on staff to keep their academic work on track.
When is high school golf season?
Students at The Academy participate in several local and national golf tournaments during the academic year. High school golf season takes place during the spring in Connecticut. It's also during the spring that students take a trip to Florida to test their game against some of the best competition in the southeast. 
Our junior golfers' success has included wins from the AJGA, Hurricane Junior Golf Tour (HJGT), Junior PGA, Future Collegiate World Tour (FCWT), NY State Junior, CT Junior, Northeast Amateur, Planters, Walker Cup, USGA and the US Kids Junior Tour.
Students who attend ACHIEVE at the GPC have access to some of the top golf facilities (both on Main Campus and at the Golf Performance Center), training equipment and athletic professionals in the country as they balance academics and student life with their drive to succeed in golf. Former students and parents of student-athletes have seen what they or their children have been able to achieve at a golf academy like The Academy at GPC.
For students who have narrowed in on their love of golf, attending a golf boarding high school is an excellent way to put them on the path to success. Through a robust admissions process and eventually evaluations to determine the proper programming tailored specifically to their needs as young players, students at ACHIEVE Golf Academy receive an unparalleled education, from the classroom to the golf course, that will prepare them for a bright future.