Maintaining your fitness through golfer workouts is an essential part of any training program if you want to improve your overall performance on the golf course. Golf workouts for men and golf workouts for women targeting the parts of the body used most during golf are such an important part of what we do at The Golf Performance Center, which is why physical fitness and nutrition are part of our 5 Elements of Success. 
During the COVID-19 pandemic, home workouts became incredibly popular for people to stay safe and maintain their fitness. Even as people now are leaving their homes and have returned to gyms and fitness centers, working out at home remains a convenient option for many.
When you're trying to put together the most comprehensive golf workout program possible, are golf workouts at home a good option? There are some reasons why golf workouts at home are a good idea and just as many reasons why working out with a trainer at a gym will lead to better results. 
We've weighed the pros and cons for doing your golf workouts at home versus working out at a fitness center.
Pros of Golf Workouts at Home
1.They can be done anytime.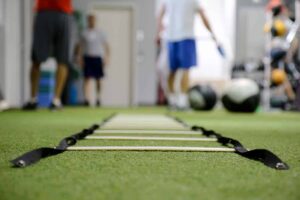 If you have a busy schedule and or find yourself doing golf workouts early in the morning or late at night, you always have the option to work out at home when gyms are closed. If you work from home or do school from home, taking a ten minute break to do crunches or squats is a convenient way to work exercise into your busy schedule.
2. You don't have to go anywhere.

Likewise, getting yourself to the gym takes time. When your schedule doesn't allow you to take the time to travel to the gym, not having to leave your house means you only have to spend time doing your golfer workout – not commuting.
3. They're cost effective.

There are so many cost effective ways to work out at home. With a myriad of free videos online, you can take advantage of workout programs that have already been designed and access them for free at home.
Cons of Golf Workouts at Home
1. They can get redundant.

Without a coach or trainer to push yourself, it's easy to find yourself falling into a pattern of the same exercises over and over again. Similarly, if you're watching the same workout videos or using the same minimal pieces of equipment at home, you're missing out on the opportunity to push your boundaries and switch up your routine, targeting your muscles in new ways and ultimately getting better results faster. 
Trainers develop a customized golf workout program for you that hits different parts of your body each time and makes sure you're getting a well rounded golf workout. 
2. There's no trainer to help with your form.

Workout videos with fitness coaches can feel like you're working with a trainer, but the people on screen can't actually see you or help you with your form. Having proper form is important for two reasons. 
First, if you aren't doing an exercise correctly, you may not be targeting the right muscles and you could miss out on the benefits of the move. Second, doing some exercises incorrectly in a golf workout can lead to injury. Having a trainer in person to make sure your form is correct will minimize the risk of injuring yourself and ensure you're getting the most out of every exercise.
3. You are limited in your equipment.

Not everyone has a home gym, and if you only have access to a few weights and resistance bands, then you're missing out on the ability to expand the exercises you include in your workouts for golf. 
A fitness center has a wide variety of machines and equipment to help you get the most out of your workout and help you target the most important parts of your body in new ways. It's important not to discount the importance of variety in your golf workout program to achieve the best results.
Luckily for members of the GPC, you have access to our multiple fitness centers and trainers to help develop a personalized golf workout program based on your golf workout goals and current fitness level. They're there to push you and make sure you're getting the most out of your fitness journey in a safe environment. 
Disclaimer
All the information on this website – www.thegolfperformancecenter.com – is published in good faith and for general information purposes only. The Golf Performance Center does not make any warranties about the completeness, reliability and accuracy of this information. Any action you take upon the information you find on this website (The Golf Performance Center), is strictly at your own risk. The Golf Performance Center will not be liable for any losses and/or damages in connection with the use of our website.
From our website, you can visit other websites by following hyperlinks to such external sites. While we strive to provide only quality links to useful and ethical websites, we have no control over the content and nature of these sites. These links to other websites do not imply a recommendation for all the content found on these sites. Site owners and content may change without notice and may occur before we have the opportunity to remove a link which may have gone 'bad'.
Please be also aware that when you leave our website, other sites may have different privacy policies and terms which are beyond our control. Please be sure to check the Privacy Policies of these sites as well as their "Terms of Service" before engaging in any business or uploading any information.
Consent
By using our website, you hereby consent to our disclaimer and agree to its terms.
Update
Should we update, amend or make any changes to this document, those changes will be prominently posted here.